---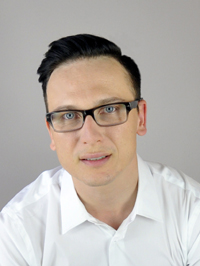 Daniel Melerowicz, Ph.D. – I am psychologist and psychotherapist. Graduate of the Silesian University. I have lived and worked in England (London) for
4 years, have spent 1 year in United States and 1 year in Australia where I was studying in AIPE – Australian Institute of Professional Education. I have been working in the area of mental and emotional health since 2004. I am still improving my skills in Psychodynamic Center in Krakow where my work is constantly supervised by professional supervisors and senior therapists.
I am a graduate of School of Coaching approved by ICF (International Coach Federation) Member of ICF Global and ICF Poland.
I also work with groups as a trainer of personal development – graduated Meritum School of Trainers on level 5 EQF (European Qualification Framework – Senior Trainer).
I work as a psychotherapist with individual clients, couples and run various psychological workshops. I am experienced in working with people dealing with variuos diffculties and who long for a deeper connection to their own unique potential. I welcome people of all nationalities, ages, religions, sexual orientations and physical ability.
My areas of work
 depression, fear, apathy
 dealing with difficult and persistent emotions or moods (anxiety, anger, sadness, resignation etc.),
 emotional disorders
 neurosis
 coping with stress
 relationship or family conflicts
 personality disorders
 recurring difficulties in relating to other people, loneliness, insecurity
 communication problems
 low self-esteem
 mouring and loss
 sexual problems
 abuses and traumas
 difficult experiences from childhood, adult children of dysfunctional families (e.g. of alcoholics),
 addictions
 search for meaning, areas of creativity and inventiveness.
I work in the office in Katowice.
Offer:
Consultations last 50 minutes for individuals and 90 minutes for couples.
Price:
– Therapy and Counselling in English for individuals (50 min.) – 250 zł
– Therapy and Counselling in English for couples (60 min.) – 300 zł
Contact me at:
tel. 577 699 144
daniel.melerowicz@strefarozwoju.org.pl
Addresses of offices:
Psychotherapy – Daniel Melerowicz
KATOWICE
ul. Rymera 4/8
40-048 Katowice